UC San Diego's Strategic Plan
Defining the Future of the Public Research University
Goal 2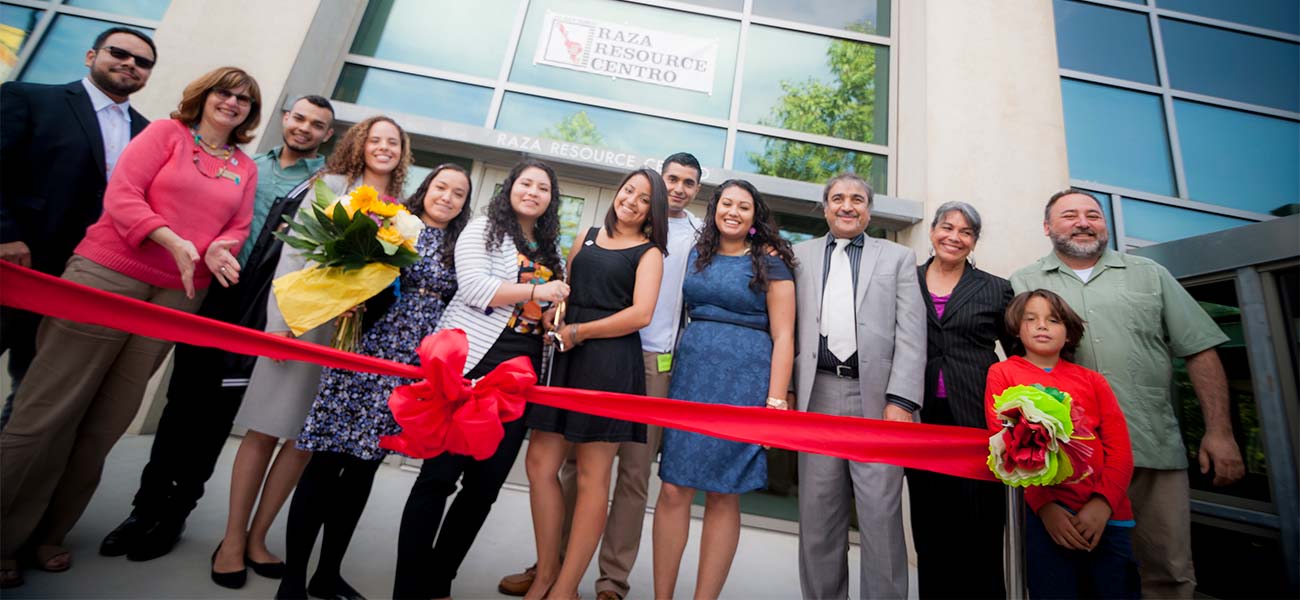 Cultivating a diverse and inclusive university community that encourages respectful open dialogue, and challenges itself to take bold actions that will ensure learning is accessible and affordable for all
Strategy 4
Evolve our campus culture by requiring actionable initiatives and measurable outcomes that enhance equity, diversity, and inclusion.
The university aims to abide by the principles of equity, diversity, and inclusion in all its endeavors. These principles are embodied in our UC San Diego Principles of Community. Equity, diversity, and inclusion are an integral part of all five goals in the Strategic Plan, and we will continually review our practices supporting these ideals.
We embrace diversity when we acknowledge that people from a wide range of backgrounds and identities make unique and valuable contributions to our university community. We embrace equity when we insist on fair and nondiscriminatory treatment for all and seek to overcome the historical exclusion of some from higher education. We embrace inclusion when we create a climate for work, research, and learning that is empowering for all individuals.
We are expanding our investment in equity, diversity, and inclusion programs and centers, including a $305,000 allocation for four diversity pilot grants and training programs. In addition, we've created an open and ongoing dialogue about these topics through advisory committees, councils, open forums, and symposia. We've also added four new resource centers on campus: Black Resource Center, Raza Resource Centro, Inter-Tribal Resource Center, and Student Veterans Resource Center.
We must ensure that our policies and practices related to admissions, hiring, and promotion provide opportunity for women, African Americans, Chicano/as, Latino/as, Native Americans, LGBTs (lesbian, gay, bisexual, and transgender), or other traditionally marginalized groups.
We have learned that creation and innovation prosper best when they emanate from students, faculty, and staff members of diverse backgrounds and viewpoints. Many voices and cultures offer different ways of seeing the world, solving problems, and working together.
Campus climate: Comprehensively integrate equity, diversity, and inclusion in our university culture and strategic decision making.
Perceptions of climate—the current attitudes, behaviors, and standards of faculty, staff, administrators, and students concerning the level of respect for individual needs, abilities, and potential—vary greatly according to race, ethnicity, and gender. We must understand the basis for these disparate perceptions and take steps to improve them. This study will provide an opportunity to review comprehensive data and develop specific and measurable action plans that address these concerns.
We will continue to develop effective partnerships with the K–12 community to prepare more underrepresented minority students. We will use our existing campus community centers and department programs to improve recruitment, orientation, retention, and graduation of underrepresented minorities at UC San Diego. One of these efforts is a new $1 million program intended to help faculty over the next two years to recruit underrepresented undergraduate students from Historically Black Colleges and Universities and Hispanic-Serving Institutions to participate in collaborative research projects on the UC San Diego campus during the summer, which will hopefully attract students here for graduate study.
We also need to improve diversity within the staff, particularly at the upper levels of the administration. With the recent leadership reorganization, we have been able to achieve some diversification of our leadership team and this will continue to be an ongoing goal. We must also expand opportunities for staff to learn about different cultures so that they can more effectively serve our changing student demographics (increases in students with disabilities, student parents, veterans, international students, non-English speakers, former foster youth). We will reexamine our processes and training and development portfolios to identify and eliminate hurdles to progress.
Finally, we will strive to make inclusion of diverse voices and viewpoints an integral part of our university culture. An important first step was to review responses to regularly administered organizational surveys and subsequently develop plans that improve climate, and support other mechanisms that monitor progress.
Strategy 5
Expand existing programs and implement new approaches that result in accessible and affordable learning for all.
While we have taken steps forward in recent years, they are not enough. Current demographic data show that diversity within our student body must expand if we are to reach a critical mass of those from traditionally underrepresented groups. We must do more to attract, enroll, and retain a diverse student body.
K–12 presence: Enhance our already strong presence and role in the California Student Opportunity and Access Program (CalSOAP) for San Diego and Imperial Counties to raise the achievement levels of low-income and first-generation students.
Through CalSOAP we will increase awareness of UC San Diego among low-income and first-generation K–12 students and continue to fund our partnerships with regional K–12 schools to raise achievement levels. We are also investing $1 million over three years in UC San Diego's Center for Research and Educational Equity, Access, and Teaching Excellence (CREATE) to initiate the STEM Success Initiative, a visionary effort linking UC San Diego faculty, staff, and students and the San Diego education community in a shared effort to support K–20 STEM (science, technology, engineering, and mathematics) education in the region.
Scholarship growth: Expand the Chancellor's Associates Scholars Program by one hundred students per year for low-income students from local high schools and community colleges.
The Chancellor's Associates Scholarship was originally offered to low-income students from three local partner high schools and has now been extended to three regional community colleges, federally recognized tribal members in the San Diego area, and students who have participated in both UC San Diego's Academic Connections and Reality Changers, an organization founded by an alumnus to help underserved students prepare for college. The number of scholars in the program continues to increase. In order to fund the program at full ramp-up—we expect four hundred Chancellor's Associates Scholars on campus in one given academic year—we have committed $4 million per year of private funds to support these bright students. This program, and other undergraduate scholarships, will be a major focus in our upcoming fundraising campaign.
Access: Support high-achieving students who reflect the demographics of California.
We are improving access for local community college students through UniversityLink, a transfer guarantee program that helps low-income students, and providing personalized support services designed to maximize student success and improve graduation rates. We also continue to develop broader and deeper relationships between the campus and our local community to meet stated needs such as economic development and urban planning.