UC San Diego's Strategic Plan
Defining the Future of the Public Research University
Goal 5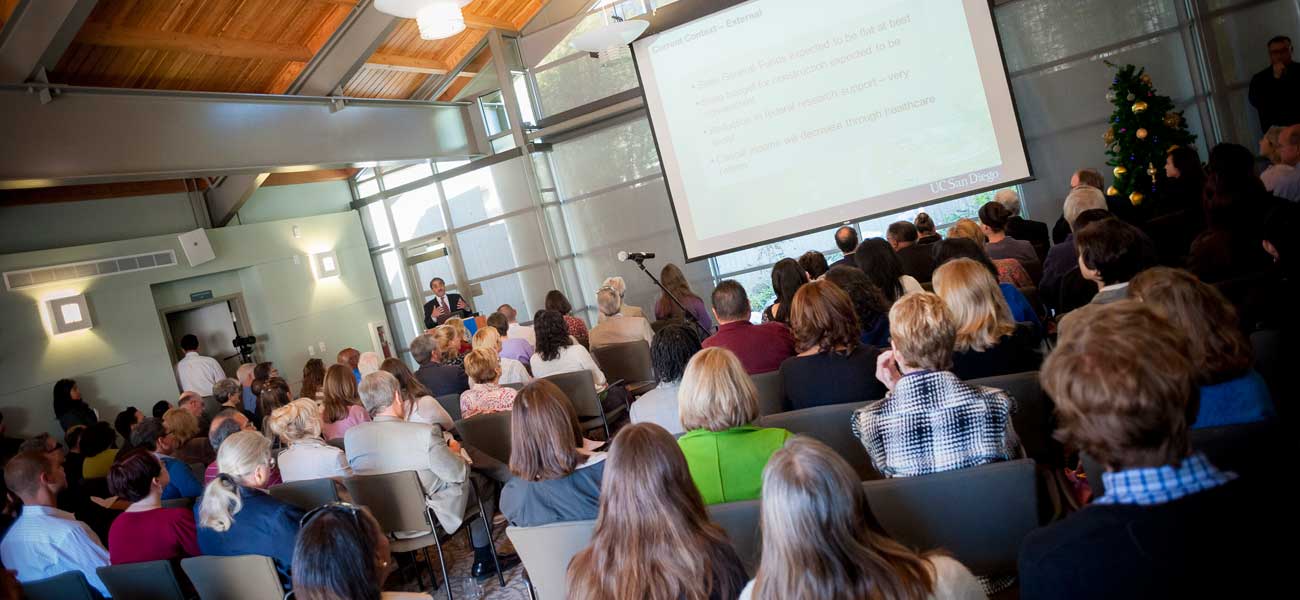 Creating an agile, sustainable, and supportive infrastructure by ensuring a dedication to service, people, and financial stewardship
Strategy 12
Enhance financial sustainability through new revenue and efficient use of existing revenue.
In 2012, the launch year of the strategic planning process, UC San Diego reached a critical turning point. For the first time in university history, our students contributed more than the State of California to the cost of their education, with state funds amounting to less than 7 percent of the university's total revenue. Despite a financial base supported by diversified revenue streams and $3.4 billion in total revenues in 2012, threats to long-term financial sustainability loom. Further clouding the picture are recent federal government cuts to awarded funding through sequestration, increased costs due to new governmental regulations and reporting requirements, and the likelihood of additional costs related to new mandatory government programs.
In 2012, the medical center accounted for 31 percent of revenues, contracts and grants 29 percent, student fees and tuition 11 percent, other educational/medical programs 11 percent, state funding for education less than 7 percent, and auxiliary services and other revenue 7 percent. The challenge going forward is to use our existing revenue more efficiently while pursuing new funding streams to support our students, research, and patient care.
In order to enhance the university's financial sustainability, accountability and transparency, we hired two new vice chancellors—a Vice Chancellor and Chief Financial Officer, and a Vice Chancellor for Advancement.
New revenue and efficiencies: Identify, review, and implement best practices as well as new revenue ideas, paradigms, and opportunities for revenue generation.
As our institution matures and grows as an education, research, and public service enterprise, funding needs for the critical infrastructure, maintenance, repair, and other key aspects of our support and service framework are rising. Funding requirements in this category have grown beyond the current funding capacity, leading to deferred maintenance and other actions that could have a negative, long-term impact if not addressed in a timely manner.
If the university is to thrive under such profound resource constraints, we must identify and implement long-term strategies that offer financial flexibility, generate new and improved funding streams, further diversify our funding, and create organizational agility. Our newly established Standing Committee on Service- and People-Oriented Culture will assess employee training and development; processes and policies; current technologies; financial systems and reporting; and organizational and performance controls. The committee will also look at ways to centralize services in order to increase efficiencies.
UC San Diego has a long history of proactive and out-of-the-box thinking when it comes to addressing ways to achieve administrative efficiencies while meeting the requirements of our stakeholders—from our faculty and students, to governmental funding agencies. In an effort to generate more net revenue, we will evaluate our existing revenue sources in terms of efficiency and opportunity for growth. This is not an effort to cut costs at the expense of service, but a holistic assessment of how to deliver the necessary level of service while identifying opportunities to improve net revenue.
Investigations into increasing cash flow include exploring additional investment options, debt strategies, new payables and collecting receivables strategies, and improved forecasting and modeling tools. Additionally, we will seek increased support from public agencies by further leveraging our government relations activity across the university through external advocacy to enhance our direct and indirect revenues. We will also look for ways to expand our sales and service revenue and optimize the management of funds by improving flow, value, and impact.
Philanthropy: Define a multiyear campus fund-raising goal and strategy, linked to the Strategic Plan, to significantly enhance the endowment for scholarships, fellowships, and patient care.
It is vitally important that we raise money for critical imperatives such as access and inclusion, and at the same time create funding pools that are not encumbered or restricted. That is why we're increasing the budget of university Advancement to $40 million over the next two years to ramp up for the largest capital campaign in UC San Diego's history. An important metric for our long-term success is to significantly enhance our endowment, in additional to generating funds for continued operations.
Building a campuswide culture of philanthropy across the university that is embraced by students, parents, alumni, faculty, and staff is vital to our long-term success. Faculty and staff are the backbone of UC San Diego, and their vote of confidence is a profound public endorsement from those who know the institution best. Private giving by these individuals demonstrates a personal and professional commitment to the university's mission. Educating students about philanthropy and the importance of giving back sets the stage for lifelong relationships with their alma mater and private financial support. As part of this culture of philanthropy, we encourage students to become the next generation of donors once they join the ranks of UC San Diego alumni.
Budget model: Ensure the campus has employed best practices in financial tracking and resource allocations.
The university as a whole is dealing with significant budgetary uncertainty that impacts nearly all of our diversified revenue streams. We will undertake a comprehensive review and assessment of our current budget and resource allocation model, followed by the creation of a comprehensive and sustainable funding model that promotes transparency, efficiency, and agility.
Strategy 13
Identify new models for excellent service that prioritize delivery to our stakeholders while addressing regulatory, compliance, and reporting requirements.
People: Emphasize employee development of critical skills in collaboration, team building, and innovative approaches.
Staff support our students, are integral to our research programs, and provide patient care in our hospitals and clinics. Our annual Staff@Work survey consistently indicates that the staff has high levels of satisfaction in their work. However, it is also clear that we must continue to improve the work environment, provide the appropriate tools, and offer opportunities for the staff to polish their existing skills and acquire new ones.
During the last several years, budgets have declined while workloads have increased, as a result of a higher volume of transactions, increased research activity, and a profusion of new regulations. Faced with the dilemma of doing more with less, the university must continue to find ways to enhance its systems and streamline labor-intensive business processes to support the dedicated staff and the university's mission. At the top of the list are culture change, professional development, and compensation issues.
Culture change: We need to provide skill-building workshops and realign metrics and reward systems such as incentives for smart risk taking, as opposed to gate keeping. Leaders who will inspire staff members, challenge them to think critically, and empower them to act boldly are essential.

Professional development: A significant portion of our current training and development portfolio focuses on transactional tasks. However, in addition to technical know-how, our new environment requires critical thinking, emotional intelligence, and other key skills that have previously not been emphasized. As we ask the staff to rethink what they do and how and why they do it, and urge them to become more service-oriented, their ability to design and manage a defined project will become increasingly important. Encouraging staff to engage in innovation that challenges the status quo requires that we adjust our tolerance for risk.

Compensation: We need to ensure that pay and benefits are aligned with the marketplace so that we continue to attract and retain the best and brightest staff.
Processes and policies: Assess structures, funding sources, and policies to develop new tactics to comply with all mandates and regulations.
Our processes and the need for reordering them reflect the complexity of our organizational structures, funding sources, and government rules and regulations. In light of this complexity, it is time to redefine our goals, reimagine our processes, and deliver an agile, supportive, and self-sustaining blueprint for the future.
Since a significant amount of administrative costs occur at the university department level, improving effectiveness must begin with an in-depth assessment of end-to-end processes from the departments to the central administration. This assessment must lead to a new twenty-first-century business model that has a primary focus on optimizing our processes to deliver business outcomes and provide customer-centric support that advance our research, teaching, and service priorities. Where we have or may have shared services, we will assess service quality and make sure that shared service delivery meets the agreed upon service level.
Enabling technologies: Identify new uses of technology to strategically increase efficiency.
Information technology, financial management and reporting systems, and sustainable energy are critical tools for operational efficiency. Historically, UC San Diego effectively used technology as an enabling tool to automate manual processes, reduce transaction time, improve visibility, and offset personnel reductions. To effectively address current and future needs, however, we must exploit technology more strategically—and not just to automate processes. To catalyze transformational change, we must assess and optimize our existing structures and processes prior to implementing new technology.
Modernizing our university information systems is a top priority. We have allocated $6 million to enhance our IT administrative efficiencies and maintain a supportive campus infrastructure. Employing common standards and protocols would allow us to fully leverage the potential of emerging technology. We need the ability to coordinate, analyze, and report on data between student information systems, financial information systems, advancement information systems, and research administrative information systems. Changes in data delivery to staff, faculty, and students must be accommodated. Additionally, deploying big data analytics and business intelligence tools will assist departments with academic and administrative decision making.
The university's financial systems are robust and reliable, but often do not provide the type of integration and flexible reporting demanded by our current and future business environment. Modernizing our legacy information systems, including the financial information systems component, would enable us to significantly improve financial reporting speed and capability by integrating and normalizing data. Improving our legacy information systems will also allow us to implement flexible tools for financial reporting.
We will consider two alternatives for upgrading our legacy information systems holistically: replacing the existing information systems and using Software as a Service (SaaS), or porting existing information systems to new platforms as many other top research universities have done.
UC San Diego iscommitted to sustainable energy and will continue to focus on alternate energy and green technology solutions that strategically increase efficiency and directly benefit the campus. We are targeting zero waste by 2020 and climate neutrality by 2025 by leveraging collaborations among our university staff, faculty, students, and researchers.